The A.V. Club recently posted an in-depth interview with comedian/actor Patton Oswalt, the voice of the rat in Ratatouille and the star of upcoming drama Big Fan (and, incidentally, a man whose first name is my middle!). His insights into comedy, acting, and fatherhood are all astute and articulate (if a tad profane). But the parts I want to share with you are those in which he expounds upon the state of television, in light of his guest-starring roles on shows like Dollhouse and Caprica.
When asked whether he'd commit to being a series regular for a television show (an undertaking few movie stars are willing to make), he replied:
Oh yeah. What's really odd now—trust me, I love doing movies, but right now, television is the way Hollywood was in the late '60s and early '70s. The dream era I would have loved to have been part of in Hollywood then is happening right now, but it's happening on television, with these big complicated story arcs and real character-driven shows and sheer ambiguity left and right. So to get asked to do stuff like United States of Tara and Caprica is terrific. I can't complain. If people wanted me to commit [to shows like that], I'd do it. Imagine if you were asked to come in for something like Breaking Bad or Damages—holy f–k, I would commit to that in a second.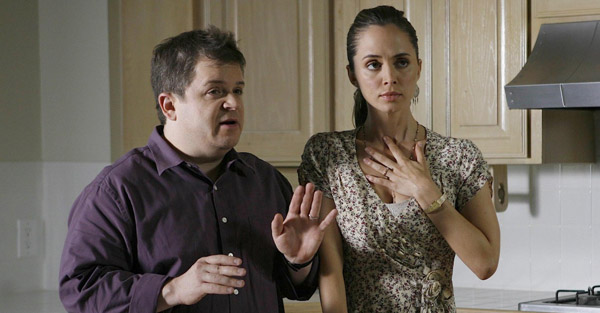 And this next part echoes my thoughts exactly regarding the need for serialized series, not just episodic shows:
They've got plenty of Law and Orders and CSIs, so why not use those to finance stuff like Reaper or Dollhouse, where the people who watch shows on DVD or iTunes can just gobble up the whole giant Dostoyevsky novel that it's trying to be? Have some balance, for God's sake.
I, for one, am an ardent and outspoken fan of just the kind of "novels" Oswalt is talking about—ever since I first watched Alias six years ago. I don't need television that's easy to consume in bite-sized chunks. I want to commit my attention and, as a result, receive long, complicated, rewarding storylines—just like those on shows he mentions, like Breaking Bad and Damages. So I give the guy a lot of props for his defense of television like that and for his respect for viewers like me.