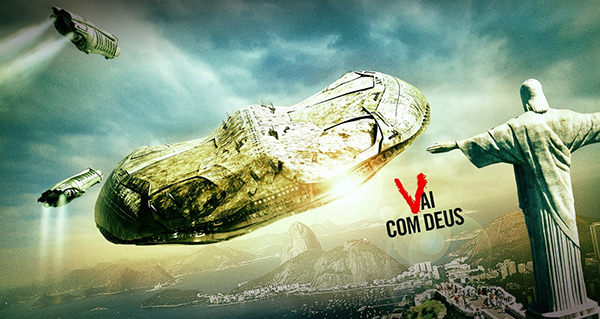 Here are the latest news items from the idiot-box world:
Lost finally has a return date—the final season will premiere with a two-hour installment on Tuesday, February 2, at 9/8c on ABC.
Chuck's return date was also announced today. The action-comedy will return with two episodes on Sunday, January 10, and then another one the following night as it settles into its normal timeslot of Mondays at 8/7c. The show was on the brink of cancellation this past spring until fans rallied to show their support. NBC gave the show another vote of confidence a few weeks ago when it upped its order from 13 episodes to 19.
ABC has released some neat-o promo images for V showing the Visitors' motherships hovering above the world's metropolitan centers. One is shown above, and you can view the rest at io9.
Just as I was wondering where Smallville actor Sam Jones, III has been all this time, here comes the news that the guy has been arrested and charged with conspiring to sell 10,000 Oxycodone pills. Bad for him, but good for my web traffic. Thanks, Sam!
Cop drama Southland, a show NBC cancelled before its second season had premiered, has been resurrected by TNT. The new season will premiere on Tuesday, January 12, at 10/9c.
Oprah Winfrey will announce tomorrow that The Oprah Winfrey Show will end after its 2010-2011 season. She currently has a deal in place with Discovery Communications to turn Discovery Health Channel into OWN: The Oprah Winfrey Network.
Steve Martin and Alec Baldwin, seen sharing the screen last season on 30 Rock, will co-host next year's Academy Awards ceremony. Other celebs considered for the emcee gig include Tina Fey, Ben Stiller, and Robert Downey, Jr.
In other hosting news, Ricky Gervais will finally get his moment in the award-show spotlight when he hosts next year's Golden Globes. Gervais, the creator and star of the UK version of The Office, has been a mainstay at the recent Oscar and Emmy ceremonies and always has the crowd in stitches.
Bravo has announced another season of Top Chef Masters along with another spinoff Top Chef: Just Desserts (which I'm a little skeptical of). And Top Chef Junior is apparently still in development.
Since my last news brief, Trauma, Eastwick, Hank have all been cancelled. But the most tragic axing of them all was Dollhouse. (Expect a write-up soon.)
For whatever reason, The Weather Channel has decided to air movies on Friday nights. The selections range from the understandable (The Perfect Storm) to the unexplainable (Deep Blue Sea). I know; I don't get it either.