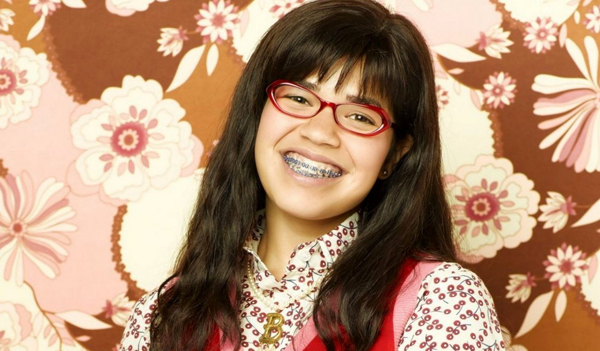 Late-breaking news and bizarre tidbits from the TV world:
In today's biggest news, ABC has announced that this season would be Ugly Betty's last. This is truly a loss. Ugly Betty was not only savvy and sharp, not only funny and endearing, but also insightful and surprisingly ponderous. Plus, it featured Latinos in lead roles and won both GLAAD and Peabody Awards. Luckily, the producers will have a chance to give the show closure: the current season will run for 20 episodes.
So as not to be too bummed, enjoy this clip I just saw today: a woman guessing a spectacularly-wrong guess on Wheel of Fortune. Interestingly, The New York Times website ran pieces on both her and her fellow contestant. The woman is philosophical about it, and rightly so. Flubs happen to the best of us.
ABC wants to keep the Lost franchise going after the landmark series bows out in May, Variety reports. I'm very skeptical about this notion. Let the end be the end. And if it absolutely has to happen, let it happen 30 years from now. (After all, rebooting a franchise 30 years later seems to be all the rage right now.)
Joss Whedon is in meetings with FX president John Landgraf. I think cable is where he belongs, a place where his high-concept shows have a place to flourish instead of being unceremoniously dumped.
Researchers in Australia have concluded that those who watch four or more hours of television each day run a 46% higher chance of dying from "all causes." Gulp!
One of the central couples of Brothers & Sisters [spoiler alert!] will be exiting stage right. Rob Lowe has already decided to leave the program citing marginalization, and Calista Flockhart will only appear in some of next season's episodes.
Forest Whitaker (of The Last King of Scotland fame) will headline the Criminal Minds spin-off.  I hope this means that more laudable movie stars are transitioning to the small screen and not that Whitaker feels like he has to slum it.
The Hollywood Reporter has a preview for Matt LeBlanc's new Showtime series Episodes, a comedy in which he plays himself appearing in a show about a producing couple who adapt a hit British show for the American screens. That's right: it's a show-within-a-show-within-a-show.
If you're sweating about keeping up to speed on Lost for Tuesday's premiere, you have a few options.  You can either watch every episode on Hulu (about 25 episodes per day!), watch the recap which will air before the premiere, or watch this YouTube clip which endeavors to recap the past five seasons in 8 minutes and 15 seconds.
TV Squad has unearthed a preview for a failed pilot from 1990 that looks patently awful.  In Poochinski, a cop dies and is resurrected as a crime-fighting dog.  Oh, but the announcer calls it touching, poignant, and unforgettable—therefore, it must be so.