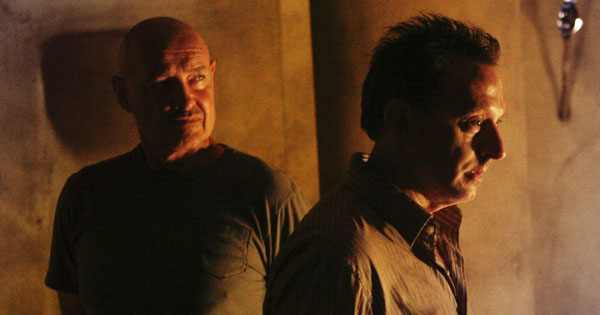 Lordy lordy, do I have a ton of news items to share. Let's waste no time:
Most excitingly, William Keck at TV Guide reports that Terry O'Quinn (Lost's Locke) is pitching a series in which he and Michael Emerson (Ben) star as "suburban hit men juggling family issues." My buddy Andy says he might not be able to see these Emmy-winners as anything other than their iconic Lost personas, but I think that we'll eventually get accustomed to them portraying different characters. Eventually.
And speaking of shedding past roles, SCI FI Wire tells us that James Callis (Battlestar Galactica's Gaius Baltar) has joined the cast of FlashForward and will appear in this season's last handful of episodes. The fate-defying drama returns March 18 for an uninterrupted run of 13 installments.
Nip/Tuck's series finale airs on Wednesday, which means I really have to make haste to catch up. (I'm not sorry it's leaving the airwaves, though—I loved it a few seasons ago, it's past its expiration date now.)
A Washington middle-schooler was given detention for what, to my mind, was a pretty well-placed utterance of The Office's catchphrase "That's what she said."
FOX's Past Life, a show which looked terrible just from the previews (and also bumped Fringe off the air for a while), has been axed after three episodes. But series lead Kelli Giddish, who was apparently one of the show's redeeming qualities, was promptly hired for Jerry Bruckheimer's U.S. Marshall pilot for NBC, Chase. What with a show premiere, a show cancellation, and a new job, it has been a climactic February for her.
E! Online revealed that Ellie Kemper, a.k.a. new hire Erin on The Office, was a student at a St. Louis High School where her drama teacher was none other than Mad Men's Jon Hamm. She said: "He taught me drama work, mostly improvisation, which I did a lot of in college and in New York. It's my favorite thing to do." And he said: "It's really cool to see [former students] blossom and find their own way in."
BuddyTV has a list of five reasons why Heroes should be cancelled, including a pretty damning line graph of the show's bombing ratings. I agree with most of the reasons, but the last reason is that cancellation is the only way to avoid disappointment. I think it's too late for that. It's already disappointing, considering how the show squandered the promise it held during its first season. I'm way behind on the show and unsure whether to even continue. In related news, star Adrian Pasdar was charged with DUI this month.
Remember when I told you that NBC's Trauma had been cancelled? It lives! To help fill the void left in the wake of the Jay Leno failure, NBC has resurrected the show. If you're interested, it returns on March 8.
Speaking of Leno, he returns to The Tonight Show next Monday, using a renovated version of his set for The Jay Leno Show (and not the impressive Tonight set that Conan used). As strong as my distaste for Leno is, I'll watch to see his Olympic guests: Lindsey Vonn on Monday, Shaun White on Tuesday, and Apolo Ohno on Wednesday.
More movie stars are migrating to TV. Matthew Broderick will star in NBC comedy Beach Lane, in which he'll play an author hired to work for a Hamptons newspaper. (Promisingly, Lorne Michaels is producing.) And Virginia Madsen (Sideways) will lead ABC's comedic drama Scoundrels, in which she'll play a mother in a family of crooks who decide to live a life of lawfulness. Based on the New Zealand show Outrageous Fortune, the adaptation was developed a couple of seasons ago under the name Good Behavior with Catherine O'Hara and Kristen Bell attached.
The fifth season of Friday Night Lights will be its last. But the fourth season hasn't even aired on NBC yet—only on DirecTV. So Dillon devotees still have two seasons to enjoy before the show bows out.
Longtime Top Chef judge Gail Simmons—who also works for Food & Wine—will be the host of spin-off Top Chef: Just Desserts.
NBC's version of BBC hit Prime Suspect is on hold while the network searches for a suitable star. Considering the original star was Helen Mirren, that's a tall order.
Also, director Roland Emmerich says that 2013, his follow-up to blockbuster disaster flick 2012, isn't likely to make it to air because of budget constraints. Even though the movie was terrible (or so-terrible-it's-actually-awesome), the series sounded interesting. It would have focused on the efforts to rebuild a human civilization in Africa. I mentioned last post how much I appreciate it when shows film on location, and it would have been awesome for an American series to have been filmed in Africa. (That's part of the reason why the TV movie 24: Redemption was so effective for me.)
Speaking of 24 (and boy, do I love smooth segues!), the feature film is apparently back on. Screenwriter Billy Ray—who wrote State of Play and Shattered Glass—will take Jack Bauer to London. But the timing of the production depends on whether or not the TV series gets another season, which FOX has yet to determine.
To the surprise of just about no one, Charlie Sheen is back in rehab, so you Two and Half Men might be out of luck later this season if CBS runs out of episodes to air.
PBS and BBC are planning another Sherlock Holmes series with Benedict Cumberbatch (Atonement) as the deerstalker-wearing detective. And, in what I consider inspired casting, Martin Freeman (who had the "Jim" role of Tim in the U.K. version of The Office) will co-star as Watson.
Happily, First Lady Michelle Obama invited the cast of Glee to perform at the White House for the White House Easter Egg Roll on April 5, and the producers of the show shuffled up the show's filming schedule to accommodate her request. As Lea Michele belted out during her bravura "Maybe This Time" duet with Kristin Chenoweth, "It's gonna happen!"
And finally, to honor the Olympics (or, more specifically, the television coverage of same), here is an amazing photo of Bob Costas atop a stuffed moose with Stephen Colbert looking on.