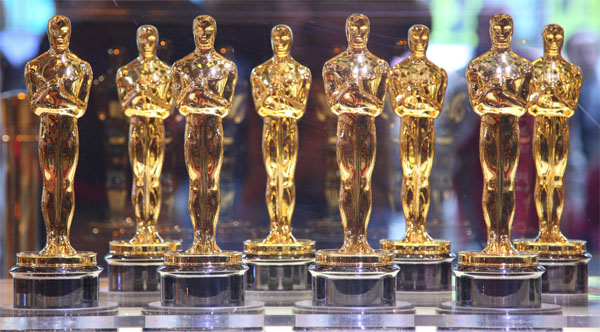 I had intended to "live-blog" the Oscars last night, but technical difficulties totally cock-blocked that idea. So instead I'm "live-plus-same-day-blogging" it, to borrow a Nielsen term. I was very excited to see this year's broadcast because it seemed to have a lot more hype and energy than broadcasts past—and because director/choreographer/SYTYCD-judge Adam Shankman was producing. But it didn't seem outstanding to me—just ordinary. I'll explain:
Alec Baldwin and Steve Martin were good hosts, but the jokes weren't as hilarious as I was expecting. And their opening monologue was upstaged by Neil Patrick Harris's song-and-dance. Next year, I vote Ricky Gervais. Or, for that matter, Tina Fey and Robert Downey, Jr.
I'm glad the Legion of Extraordinary Dancers were featured during the Best Score pastiche, but their performance was shot as such a distance that it wasn't as hard-hitting as it could have been. The cameras should have been right in the thick of it. Hey, where's that 3-D TV technology when you need it?
The "In Memoriam" montage (or, as my roommate dubbed it, the Death Reel) was reverent and respectful, but it seemed short. I wonder how they determine who gets featured, especially considering Bea Arthur and Farrah Fawcett were left out. Yes, those two actresses are known for their television work, but both also did films. If the King of Pop was included, they should have been, too.
Also, not that I minded, but why did late director John Hughes get singled out? Has that happened before for someone who wasn't receiving an Oscar?
A showcase like that typically introduces the Honorary Award, but that particular trophy wasn't even handed out during the ceremony this year, maybe because the segment is perceived as being boring to younger viewers. Along the same lines, there was no address from the Academy president this year.
Like most everyone else, I think that expanding the field of nominees to ten is a cheap ploy to get viewers, but I can't fault the Academy for it. They have to do what they have to do to stay culturally relevant and alluring. And it apparently worked out, with this year's broadcast being the most-watched Oscar night in five years.
There were no real upsets, except for perhaps The Hurt Locker beating Avatar. That seemed to be the only neck-and-neck race in the big awards. Good thing it was presented last!
Incidentally, If you're wondering what was up with that woman "pulling a Kanye" during the Best Documentary Short Subject acceptance speech, Salon has the skinny.