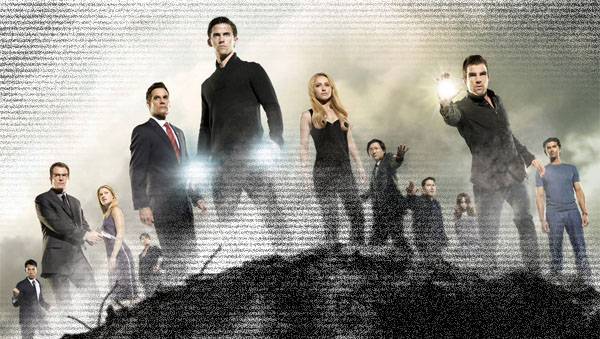 When in the course of television viewing it becomes necessary for one person to dissolve the sentimental bands which have connected him with certain programs, a decent respect to the producers of those shows requires that they should declare the causes which impel them to the separation.
In other words, Judgment Day has arrived, my friends. My backlog of television has reached mammoth proportions, and it's time to cut some shows loose in the pursuit of sanity! Maybe I will revisit these shows again, but its curtains for now.
Flashpoint This hostage-negotiation drama was supposed to be an American/Canadian collaboration. But CBS hasn't exactly jumped at the chance to air the new episodes, so I'm wondering if it will ever be shown Stateside again. I checked this show out because of Enrico Colantoni (who played Veronica Mars's pop), but I found myself enjoying both the crises-of-the-week and the ongoing character developments. But for some reason, I haven't been tempted to watch an episode in a year or so. So I'm saying farewell for the time being.
Gossip Girl When I first conceived this Almighty Purge, I thought I'd give each show one more episode to woo me back. But I started with Gossip Girl, and I got through all of six minutes before I couldn't stomach any more. How could such a series once so guiltily-enjoyable get so flat and uninteresting? Answer: none of the characters matured; and none of the break-ups and make-ups mattered because none of them lasted.
Heroes I'm crying uncle on this one. I thought I could at least get through the fourth season, but I just don't care anymore. And it's sad, too, because I have a feeling the series's days are numbered. It must have stunk up the joint pretty bad to make me give up so close to the end.
Human Target I never watched this one, but I was intrigued by the premise, by the gunslinging action and rollicking adventure, by the Mark Valley, by the Chi McBride, by the Jackie Earle Haley, by the musical stylings of Bear McCreary, etc. etc. But I never got around to watching the first episode.
Men of a Certain Age I did see half of the first episode thanks to a promotional screener (and gave it a moderately-positive review), but I was never enthused enough to watch the rest. Perhaps I just can't get hyped up about middle-aged angst?
Project Runway I did enjoy a couple seasons there, but the latest season failed to intrigue me enough to keep watching. My mom says it's relatively drama-less this season, so maybe that's what made me tune out.
Warehouse 13 I had high hopes for this show, but it proved to be a bit too hokey and inconsistent.
Shows I gave up on previously: Jericho, In Treatment, Saving Grace, The Philanthropist
Well, parting is such sweet sorrow (sometimes), but on the bright side, my backlog has been reduced from 108 hours to 56 hours.  Huzzah!