Now that a whole week has passed since the airing of the 62nd Annual Emmy Awards, let's pretend like I'm live-blogging the affair! But really, I'm just reviewing the tapes. Here are my thoughts about the events of the night, laid out on a (commercial-free) timeframe.
00:00:06 Jimmy Fallon and various television stars form a ragtag glee club and perform a rousing rendition of Bruce Springsteen's "Born to Run." Where else can you see Lea Michele, Cory Monteith, Chris Colfer, Amber Riley, Tina Fey, Kate Gosselin, Jon Hamm, Betty White, Jane Lynch, Jorge Garcia, Nina Dobrev, Joel McHale, Randy Jackson, and Tim Gunn in one skit—and one that happens to be hilarious? It's a TV junkie's dream!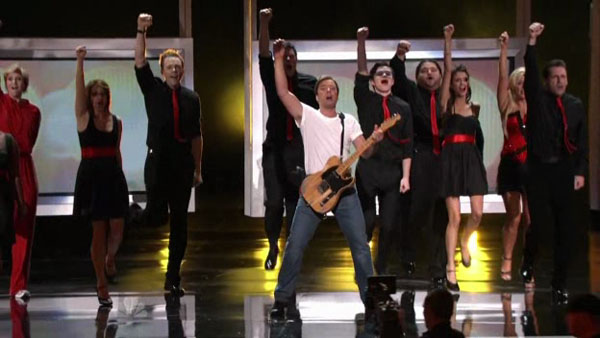 00:09:03 The comedy montage features such priceless moments as the "moon landing," Mitchell vs. the pigeon, and "two things flaming at once" from Modern Family; Larry David vs. the swan, Jerry Seinfeld's "icon/no-con" rant, and the wheelchair makeout from Curb Your Enthusiasm; and the paintball scenes from Entourage and Glee.
00:12:12 Modern Family's Eric Stonestreet rightly wins for Outstanding Supporting Actor in a Comedy Series and has us all a little verklempt at the end of his speech.
00:17:26 The Office creator Greg Daniels does an uncannily good "I'm Rick James, bitch!" and 30 Rock writer Kay Cannon does a Liz-Lemon-style sexy dance.
00:21:57 Glee's Jane Lynch wins for Outstanding Supporting Actress in a Comedy Series, and my predictions (read: hopes) are 2 for 2!
00:28:28 The Modern Family skit is so, so funny. If you're a fan of the show, or even if not, YouTube it. Right now.
00:31:37 Jim Parsons and Edie Falco win Outstanding Lead Actor/Actress in a Comedy Series for The Big Bang Theory and Nurse Jackie, but I watch neither! Jag!
00:36:49 The reality montage leans a little too heavily on the trashy side of reality programming, methinks.
00:39:35 The voice that introduces the Outstanding Reality-Competition Program nominees is comically gravelly.
00:40:16 One of the Top Chef producers trips (albeit hilariously) on the way up to the stage, but the jerkwad behind her a) doesn't help her up, and b) steps over the shoe which flew off without picking it up. You can also see both Kyle McLachlan and Carrie Ann Inaba saying "Her shoe!" But, hey, hooray for Top Chef!
00:43:29 The drama montage makes me glad that its my bread and butter. Plus, it employs the ubiquitous Dragonheart theme. But man, so many good shows, so little time.
00:47:20 Team Darlton, showrunners for Lost, could really go into comedy. Boo-yah!
00:49:56 Breaking Bad's Aaron Paul wins for Outstanding Supporting Actor in a Drama Series, and I'm pleasantly surprised! Then, later, The Good Wife's Archie Punjabi wins for Outstanding Supporting Actress in a Drama Series, and I'm pleasantly surprised! Maybe the only thing you need to win an Emmy is A.P. as your initials.
00:55:08 Breaking Bad's Bryan Cranston wins for Outstanding Lead Actor in a Drama Series for the third consecutive time. But this year, both leads for the show won! If only they had a trophy case in the meth lab.
00:57:39 The name of Gugu Mbatha-Raw (presenter and Undercovers co-star) is so fun to say.
01:01:10 Jimmy Fallon gives an impassioned musical "in memoriam" tribute to three shows we lost this year—24, Law & Order, and Lost—in the personas of Elton John, Boyz II Men, and Billie Joe Armstrong, respectively. Good on ya, Fallon.
01:05:42 "This year's nominees for Outstanding Lead Actress in a Drama Series all have one thing in common: they are terrifying—beautiful." Tina Fey and Matthew Morrison's banter is actually funny! (January Jones and Jon Krasinski, take notes!) Kyra Sedgwick wins for her work on The Closer. Again, I don't watch the show.
01:16:01 Reliably, Ricky Gervais has the audience in stitches—and makes the ceremony a bit more Globes-ish by passing out booze.
01:27:29 George Clooney, accepting the Bob Hope Humanitarian Award, gives a graceful and articulate acceptance speech and calls for the media spotlight to shine on the right subjects.
01:30:47 Once again, the movies/miniseries montage makes me feel guilty for seeing none of the featured productions.
01:33:35 HBO's movie Temple Grandin wins for the first of five times tonight. My mom thought this should have been the basis of a drinking game.
01:39:42 The actual "In Memoriam" montage is quite touching, especially with the addition of a weepy Jewel song.
01:52:52 Seeing him next to Alexander Skarsgård shows just how short Al Pacino, winner for Outstanding Lead Actor in a Miniseries or Movie for You Don't Know Jack, really is!
02:01:38 Mad Men wins for Outstanding Drama Series for the third straight year. It's undefeated! I was rooting for Lost, but hey, I can't quibble with this outcome.
02:04:02 Modern Family wins for Outstanding Comedic Series. I certainly can't quibble here, either! And this year's ceremony draws to a close. Well done, NBC! Well done, Jimmy! I'll be excited to see how next year's broadcast tops this year's.