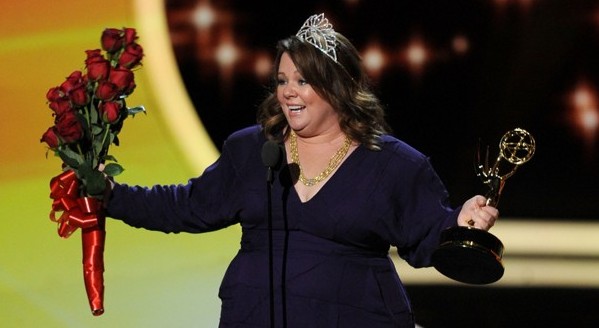 Forgive me, readers, for I have sinned. It's been months and months since my last blog post. And in that time span, the Emmys broadcast came and went, uncommented on—until now! Yes, though it may be ridiculously belated, I'm here to opine, ruminate, and wax poetic on all things Emmy. Hey, at least I'm doing so before next year's broadcast…
Even though the opening number didn't wow me (until the Mad Men bit, that is), I still think Jane Lynch made for a fine Emmy host, and I hope the producers continue to make unexpected choices for the hosting gig for future ceremonies.
All hail Modern Family. Not only was it chosen as Outstanding Comedy Series, but Phil and Claire Dunphy themselves, Ty Burrell and Julie Bowen, were chosen as the comedy world's best supporting actor and actress. Plus, the show also took home awards for its writing and directing.
That said, I could have used some more Parks and Recreation lovin', since that show jockeys in my mind with Modern Family for the best comedy on TV right now.
I loved Melissa McCarthy on Samantha Who? (and I hear she was just as lovable in Gilmore Girls), and now she's finally getting her moment in the sun, what with a scene-stealing turn in Bridesmaids, Emmy gold for Mike & Molly, and a recent critically-adored hosting job on SNL.
Still haven't watched The Big Bang Theory, but congrats to Jim Parsons nonetheless for nabbing Outstanding Actor in a Comedy Series. I'd be eager to watch, but I just have too much television on my plate.
Once again, The Daily Show is hailed as the best of all variety, music, and comedy series—and I feel shameful that I haven't even gone to see a live taping here in New York.
It was hugely gratifying to see Margo Martindale win for her role as Mama on the criminally-underrated Justified. And I'd nominate Mama's "apple pie" in Most Tantalizing Moonshine category.
It seems like fans of Friday Night Lights bemoan its lack of attention, so I felt some vicarious vindication when Kyle Chandler won for Outstanding Lead Actor in a Drama Series. Still, I was rooting for Justified's Timothy Olyphant…
Julianna Margulies? Love her. Love everything about her. Love The Good Wife. Yep.
As much as I enjoy The Amazing Race, I think that Top Chef put up a better season this year. Both shows brought back former "also-ran" contestants to compete again this season, but Top Chef's contest was just more engaging.
Much as I enjoy Grey's Anatomy (discounting the fact that I get paid to enjoy it), I do think that Loretta Divine deserved the show's one and only acting nomination, and I'm tickled that she won it, because this scene is definitely Emmy material.
When I saw Kate Winslet in the audience, I assumed she was just there for show. Then I remembered (and then she won for) her role in HBO's Mildred Pierce miniseries. And that's great, because she's just so freakin' likable.
Much as I love Mad Men, I found myself a little dismayed that it won this year again. Seems to me that any of the other four shows (Dexter, The Good Wife, Friday Night Lights, Game of Thrones) would be just as worthy. Is Mad Men Fatigue possible? And if so, is it justifiable? I guess it's a high-class problem to be tired of a show being consistently excellent.
Most pressingly, when the hell will I be recognized by the Emmy voters for Outstanding if Infrequent Television Blogger or Outstanding if Overconfident Talent for an Unproduced Television Writer?