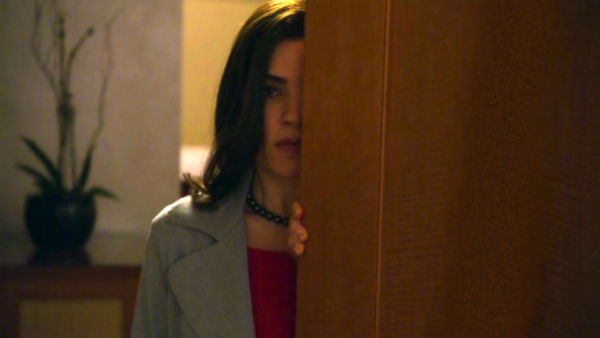 We all watch television in eager anticipation of those watercooler moments—those moments so shocking, so emotional, so incredibly awesome that we have to a) rewind to watch them about twenty times and b) rehash them to death with all of our fellow watchers. And I honor my picks for those moments here, along with video clips of each moment from YouTube and Hulu (which will hopefully still work in six months). Bear in mind that I did not (and surely could not) see every worthwhile show on television in 2011, and I might be behind on the ones I do watch, so I will most certainly snub deserving moments. Also, I chose not to go Googling to remember these events; if they didn't come immediately to mind, they must not be momentous enough to merit a place on this list.
WARNING: MASSIVE SPOILERS AHEAD! You may just want to look at the show names in the parentheses before looking at the description to keep yourself pure. You've been warned!
Alicia finds out (The Good Wife) that Kalinda slept with her husband Peter, since only she knows that the name of his rumored mistress, Leila, is the name with which Blake would constantly refer to Kalinda.
Debra sees Dexter kill (Dexter), and now we're dying to know now how strong their familial bonds are—will she arrest him, protect him, or aid and abet him?
Adele learns she has Alzheimer's (Grey's Anatomy) passing through denial, anger, and grief all within the span of a tour de force monologue, thanks to an Emmy-winning performance by Loretta Devine.
Zeek lectures Amber (Parenthood) after she gets in a car accident because her friend was drunk, saying, "You do not have my permission to mess with my dreams."
Gus uses the box cutter (Breaking Bad) on his henchman Victor's neck, wordlessly putting the fear of God (or is that the fear of Gus?) into insubordinate Walt and Jesse.
Violet realizes she's dead (American Horror Story) when she finds her rotting corpse deep in the bowels of the Murder House, and she realizes that her suicide attempt days earlier was successful.
The multiverse forgets Peter (Fringe) as if he never existed, and he was only trying to stop the destruction of our universe by the other and vice versa.
Debbie shoots Tara (True Blood) with a bullet meant for Sookie, making this season finale the bloodiest and most tragic episode yet.
Michael says goodbye (The Office), ending the comedy king's reign in Scranton on a surprisingly sincere and touching note.
Henry dies (Grey's Anatomy) on Cristina's operating table, while Henry's wife Teddy operates in the next room, misled to believe the surgery is a success.
Dexter finds the professor's frozen body (Dexter) and realizes that Travis is the monster himself, not just the lackey—and worse, he's schizo.
The Troubletones sing "Rumour Has It/Someone Like You" (Glee), a mash-up showcasing the emotion-laden vocals of Mercedes and Santana, with some fine choreography to boot.
Adam and Kristina fight (Parenthood), which not only displayed superb acting by Peter Krause and Monica Potter but also proved that the relationships developed by this show's writers are among the most realistic you're likely to find on TV.
Callie sings "The Story" (Grey's Anatomy)—really just an excuse for Sara Ramirez to sing a showstopping number, and damn if she didn't sing her heart out.
Blake leaves Kalinda with a parting shot (The Good Wife), telling her that he knows that she slept with Peter—and we get a rare glimpse of a vulnerable and scared Kalinda.
BONUS: "Just give me all the bacon and eggs you have. Wait… wait. I worry what you just heard was, 'Give me a lot of bacon and eggs.' What I said was: 'Give me all the bacon and eggs you have.' Do you understand?" – Ron Swanson, Parks and Recreation