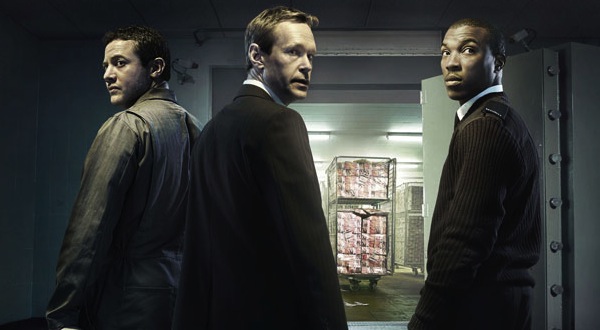 Feeling a certain malaise now that the traditional broadcast TV season is dormant until September? Feeling reluctant to crack that copy of Infinite Jest on your bookshelf? Unenthused about taking in the sunshine and warm weather outside? Have no fear: summer TV is here! And here's your handy breakdown of the estival new shows ("estival: appearing or belonging to summer"—thanks, Merriam-Webster!), each listing complete with the official description and with my pithy remarks. Never mind the fact that some of these shows are already on the air. Just keep thinking that my blog is the timeliest of all blogs.
May 11: Common Law (USA) This series is "about two cops with a problem—each other. Despite their differences, they are incredible detectives. When things come to a head during their 'seven-year itch' as partners, their captain forces them into couples' therapy to save their 'work marriage.'" Can you feel the (strictly professional) love tonight?
May 24: Duets (ABC) "Superstars Kelly Clarkson, John Legend, Jennifer Nettles and Robin Thicke individually set out on a journey across America looking for undiscovered talent worthy to be their protégés. Ultimately, each superstar will choose two singers to be their duet partners. Together, the superstar and their protégé will take the stage each week and perform in front of a live studio audience." I can't knock it: it's actually a legitimately good excuse for another singing show.
May 29: The Catalina (The CW) "With a nightlife as hot as the sun-soaked beaches, [this] new reality series centers on the young, wild staff of The Catalina hotel in Miami's South Beach. Forming their own dysfunctional family unit, the fun-loving group works hard during the day, while at night, they party even harder than their guests." Hmm, let me make that synopsis more synopsized: It's like South Beach Shore with the cast members at least pretending to have legitimate jobs.
May 30: Dogs in the City (CBS) "New York City dog guru Justin Silver [is] a master at resolving issues between canines and their owners—no matter whose behavior is at fault." Hah! Zinger. But I'm not really interested in The Dog Whisperer: Urban Edition, no matter how attractive Mr. Silver is… oh wait… oh, hello…
May 31: Breaking Pointe (The CW) "Breaking Pointe rips back the curtain on the inner workings of elite Salt Lake City Ballet Company, Ballet West. It obliterates the notion that ballet is a dated art form and shatters pre-conceived stereotypes […] Beneath their perfect exteriors, these dancers have the toughness of linebackers, punishing their bodies to achieve perfection and dancing through injuries and pain." So it's like Black Swan with all of the physical rigor and none of the fun craziness.
June 3: Longmire (A&E) "Walt Longmire is the dedicated and unflappable sheriff of Absaroka County, Wyoming. Widowed only a year, he is a man in psychic repair but buries his pain behind his brave face, unassuming grin, and dry wit." Both the main character and the concept seem a little rusty, but Wyoming looks beautiful, so there's that.
June 4: Push Girls (Sundance) "Four friends, through accident or illness, have been paralyzed from the neck or waist down. But while their legs may be disabled, these four fearless women pursue their own claims to happiness, even when their lives threaten to spin out of control." Okay, Sundance, good for you. But who even has Sundance?
June 7: The Choice (FOX) This show "features the world's most eligible celebrities competing to find true love among a group of attractive singles…they can't see." Too bad the world's most eligible celebrities are neither the world's most legitimate nor even the world's most interesting celebrities.
June 7: Saving Hope (NBC) "When charismatic Chief of Surgery Charlie Harris at Hope-Zion Hospital ends up in a coma, he leaves the hospital in chaos – and his fiancee and fellow surgeon, Alex Reid, in a state of shock […] The comatose Harris explores the hospital halls in 'spirit' form, not sure if he's a ghost or a figment of his own imagination." In other words, Grey's Anatomy: Ghost Edition.
June 8: Bunk (IFC) "Bunk is a comedy game show where a panel of comedians compete in inane challenges to win surreal prizes." Somehow I think that the prospect of winning "surreal prizes" wouldn't fly on broadcast game shows.
June 8: Comedy Bang! Bang! (IFC) "Packed with character cameos, filmic shorts, sketches and games set amongst an off-beat world, [this show] delivers thirty minutes of absurd laugh-loaded fun featuring some of the biggest names in comedy." And they're not kidding: the guest-star slate includes Michael Cera, Zach Galifianakis, Jon Hamm, Amy Poehler, and Seth Rogen.
June 11: Bunheads (ABC Family) "The tale of a Las Vegas showgirl who impulsively marries a man, moves to his sleepy coastal town, and takes an uneasy role at her new mother-in-law's dance school." It's like Black Swan without any of the interesting parts and with a bizarre title.
June 12: Barter Kings "There's a thriving subculture of entrepreneurs who know how to get what they want without spending a dime. No cash, no problem. These larger than life characters prefer the art of trade, and we've found the best in the business—Steve McHugh and Antonio Palazzola." This new trend of collectors' reality TV is getting a little out of hand (see also: American Pickers, Storage Wars, Auction Kings, Pawn Stars, etc.); but if this show can explain how that Montreal dude turned a paper clip into a house in 14 trades, I'm in.
June 13: Dallas (TNT) "The story focuses on the offspring of bitter rivals and brothers JR and Bobby Ewing, who clash over the future of the Ewing dynasty while the fate of Southfork itself weighs in the balance." Watch out for the season-ending cliffhanger finale "Who Botox-ed J.R.?"
June 18: The Glass House (ABC) "14 contestants will live together and compete against each other and the viewers for $250,000 grand prize. Viewers will be able to support the contestants they like through online and social media platforms and their votes will help determine which go home and which eliminated competitors will have the chance to return to the competition." We'll see if this show ever makes it to air: CBS is trying to block the premiere, alleging that it's too similar to Big Brother.
June 20: Baby Daddy (ABC Family) "Ben becomes a surprise dad to a baby girl when she's left on his doorstep by an ex-girlfriend. Ben decides to raise the baby with the help of his mother, his brother Danny, his best buddy Penny, who is harboring a secret crush on him." So it's like Raising Hope: Life Unexpected Edition.
June 20: Inside Men (BBC America) "The story of three employees of a security depot who plan and execute a multi-million-pound cash heist." …before retiring for tea and crumpets at 3 o'clock. (Sorry, that was a cheap ploy to say the word "crumpets.")
June 21: Snooki & JWOWW (MTV) This show "follows Jersey Shore BFF's Nicole 'Snooki' Polizzi and Jenni 'JWOWW' Farley as they start a new chapter in their lives and take over Jersey City […] The real-life besties move in together to take on their next big adventure: adulthood!" Warning: only permissible when watched ironically.
June 24: The Great Escape (TNT) "TNT will drop teams of everyday people into the middle of their own epic action/adventure movie and challenge them to complete one task: escape." Sounds like great fun, assuming you are coordinated. If there were a series for us clumsy-folk called The Great Trip, I'd be its champion.
June 24: The Newsroom (HBO) "A behind-the-scenes look at the people who make a nightly cable-news program […] the series tracks their quixotic mission to do the news well in the face of corporate and commercial obstacles-not to mention their own personal entanglements." It's like Aaron Sorkin made a big sandwich out of Sports Night, The West Wing, Studio 60 on the Sunset Strip; and I, for one, am ready to chow down.
June 26: Craft Wars: "Craft Wars follows host Tori Spelling and a diverse cast of crafters as they compete to become the ultimate crafting champion." Sorry, TLC, even before the word "crafting," you lost me at "Tori Spelling."
June 28: Anger Management Charlie Sheen plays "a non-traditional therapist specializing in anger management. He has a successful private practice, holding sessions with his group of primary patients each week, as well as performing pro bono counseling for an inmate group at a state prison." You may think that Sheen's latest case of the crazies would oust him from showbiz forever, but, hey, doesn't everyone deserve a seventeenth chance?
June 28: Brand X with Russell Brand (FX) "The series features Brand's unvarnished, unfiltered take on current events, politics and pop culture […] shot in front of a live audience." I'm not sure I understand this twist in FX's brand-ing. (Rim shot!)
July 9: Opening Act (E!) "A team of judges will comb the Internet in search of talented amateurs capable of opening for such acts as Nicki Minaj, LMFAO, Brad Paisley, Gym Class Heroes and Jason Mraz." Hope this fills that gaping void of song-and-dance competition shows out there.
July 9: Perception (TNT) "Dr. Daniel Pierce is an eccentric neuroscientist who uses his unique outlook to help the federal government solve complex criminal cases." …and to help solve the case of Eric McCormack's apparent imperviousness to aging.
July 10: Final Witness (ABC) "What if a murder victim could tell you about their final moments? The voices of the dead come to life in this true-crime series which offers a unique look at some of the nation's most shocking murders. Each of the seven episodes will examine one case from start to finish, taking viewers inside the murder from the victim's point of view." Gee, ABC, that's pretty crass. That's not to say that I'm not luridly curious to watch, but I'll not feel good about myself. I'll just not.
July 10: Trust Us with Your Life (ABC) "A new improv comedy show [featuring] Fred Willard as host and Wayne Brady, Colin Mochrie, and Jonathan Mangum as the main improvisers. Greg Proops and Nicole Parker will guest=star." OMG! It's Who's Line Is It Anyway 2.0! And a lot of the old gang is back! I'm happy that Fred Willard (of all the Christopher Guest mockumentaries) is hosting. But who will represent us absurdly-tall guys if Ryan Stiles isn't there?
July 11: Beverly Hills Nannies (ABC Family) "A docu-series, following the lives of a group of nannies working for families in the most exclusive zip code in the country." Is "docu-series" the new euphemism for reality TV? At least this show isn't oblique in its title.
July 15: Small Town Security (AMC) This reality show "focuses on a small, family-owned private security company located in rural Georgia." If this show has even half the backwoods, low-life population of Justified, this could get interesting…
July 19: Married to Jonas (E!) "A docu-soap series that chronicles both [Kevin Jonas's and wife Danielle's] suburban domestic life and Jonas's re-teaming with his siblings Joe and Nick as the group gets ready to record new music." I wouldn't watch it in any event, but isn't Kevin the least popular of the Jonases?
July 23: 3 (CBS) "A new relationship series in which three single women of different ages, life experiences and backgrounds meet for the first time with a common goal—to find true love." So it's like three seasons of The Bachelorette running at the same time. Does that appeal to you?
August 13: Major Crimes (TNT) "The Closer spin-off series which follows Capt. Raydor of the Los Angeles Police Department." That synopsis would spark more interest if I'd ever watched The Closer. Still, it has Mary McDonnell, so it has to be okay!